Controversies Rocks Wizkid As His two Baby Mamas Calls Him Out. (See Details)
Wizkid's two baby mamas have dragged the singer into a big mess to show how irresponsible the singer is to the well being of his children. The drama started when the first baby mama called the singer out although without mentioning his name, people already knew who she was referring to.Mother of Boluwatife, Wizkid's first son, took to Twitter to lament about having to play the role of a mother and a father to their son abd she works so hard to put make him comfortable. See the post below
In the same vane, the Second Baby mama came out as well to drag the singer's name and accuse him of not taking care of her and his child. The same accusation of the first baby mama. See Tweet below.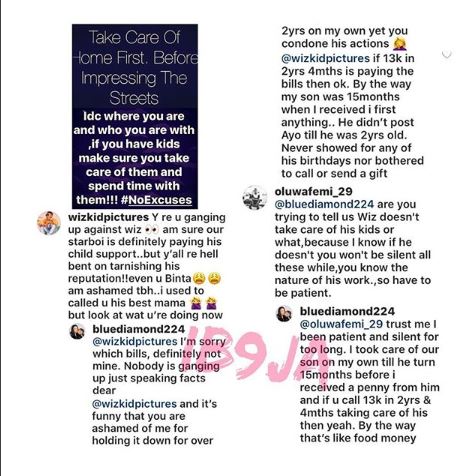 CHECK THIS OUT: Davido And Girlfriend In Exchange Of Words
Their outburst contradicts what is being portrayed on social media. From his posts and statements during interviews, Wizkid comes off as a caring father to his son. If you recall, he got a tattoo bearing the name, 'Boluwatife' and once in a while, he shares pictures and videos of him spending quality time with Bolu but the recent post by Bolu's mother suggests Wizkid has been playing to the camera and his 'father character' is a farce.
But contrary to what the two baby mama said, Wizkid has come out to debunk their claims with the third baby mama who also stands as his Manager taking sides with him counterted what the two baby Mama had earlier claimed. She what she posted below.
PhotoCredit: Ib9ja