Check Out The 9 Most Powerful Militaries in The World
Every country needs a strong military to protect against external invasion and to protect the country's border.
What follows is a list of 9 countries that have the toughest militaries in the entire world.
The ranking ranking of these militaries assesses the diversity of each country's weapons and pays particular attention to their available manpower. Geography, logistical capacity, available natural resources, and the status of local industry are also taken into account.
These are the countries that are on the very top of the list when it comes to technology, weaponry, and manpower.
MUST READ: Police Boss Makes Shocking Revelation About Offa Bank Robbery Suspect, Michael Adikwu's Death
Here are the 9 most powerful militaries in the world'
9. TURKEY
Turkey is said to have close to 750,000 military personnel. Turkey is one of those countries that you might not expect to be on this list, but they have one of the strongest military power in the world.
Power Index rating: 0.2216 (NATO member)
Total population: 80,845,215
Total military personnel: 710,565
Total aircraft strength: 1,056
Fighter aircraft: 207
Combat tanks: 2,446
Total naval assets: 194
Defense budget: $10.2 billion
8.  ITALY
Italy has one of the most formidable military as the country doesn't relent in empowering their armed forces to protect their cities.
Power Index: 0.6838
Active Frontline Personnel: 293,202
Total Aircraft: 770
Tanks: 720
Naval Power: 179
Budget: $31,946,000,000
7. SOUTH KOREA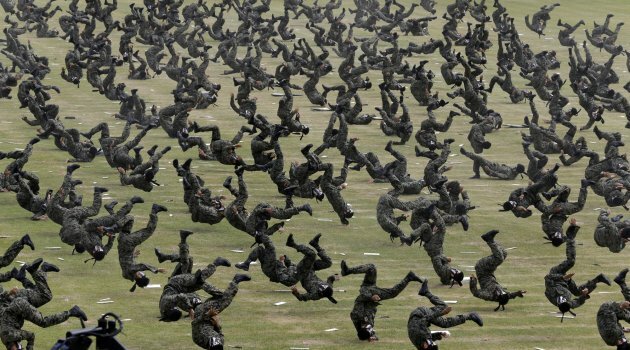 With an army who are not only good with weapons but also great in martial arts skills and hand combat, South Korea makes the list at number 7.
Power Index: 0.6547
Active Frontline Personnel: 653,000
Total Aircraft: 871
Tanks: 2,466
Naval Power: 190
Budget: $28,280,000,000
6. CHINA
Another Asian powerhouse with martial arts skills and sophisticated weapons.
Power Index: 0.3351
Active Frontline Personnel: 2,285,000
Total Aircraft: 5,048
Tanks: 7,950
Naval Power: 972
Budget: $129,272,000,000
5. FRANCE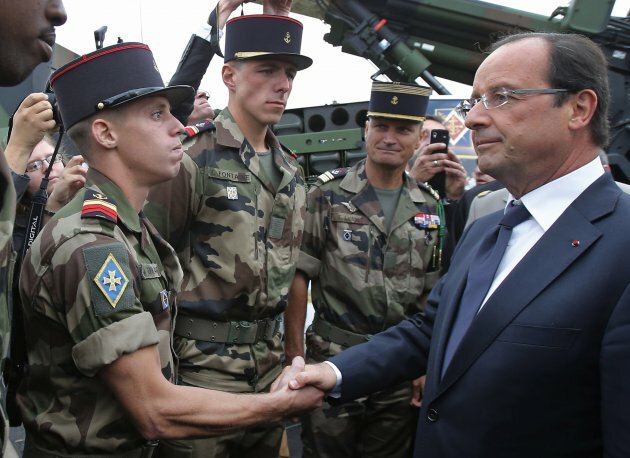 The french army has always been recognized for their strong manpower and strong will in protecting their nation.
Power Index: 0.6163
Active Frontline Personnel: 362,485
Total Aircraft: 544
Tanks: 571
Naval Power: 180
Budget: $58,244,000,000
4. INDIA
The Indian army has a large number of manpower as many of their countrymen are ready to serve their nation.
Power Index: 0.4346
Active Frontline Personnel: 1,325,000
Total Aircraft: 1,962
Tanks: 3,555
Naval Power: 170
Budget: $44,282,000,000
3. UNITED KINGDOM
The United Kingdom always has a pretty strong military that's almost always aligned with the United States. With their sophisticated weapon and great technology, the U.K army are a force to reckon with.
Power Index: 0.5185
Active Frontline Personnel: 224,500
Total Aircraft: 1,412
Tanks: 227
Naval Power: 77
Budget: $57,875,170,000
2. RUSSIA
The Russian army, with lots of nuclear weaponry, large army personnel who are loyal to their country and sophisticated aircrafts, a country will think twice before waging war with Russia.
Power Index rating: 0.0841
Total population: 142,257,519
Total military personnel: 3,586,128
Total aircraft strength: 3,914
Fighter aircraft: 818
Combat tanks: 20,300
Total naval assets: 352 (one aircraft carrier out of service indefinitely)
Defense budget: $47 billion
UNITED STATES OF AMERICA
The U.S army have well over 3 million military personnel, almost 4,000 fighter aircraft, and a defence budget of over 44 billion dollars. The United States has been pretty much the military superpower for a very long time.
Power Index rating: 0.0818 (NATO member)
Total population: 326,625,791
Total military personnel: 2,083,100
Total aircraft: 13,362
Fighter aircraft: 1,962
Combat tanks: 5,884
Total naval assets: 415 (20 aircraft carriers)
Defense budget: $647 billion